2021 Sustainability Year In Review
2021 Sustainability Review
Recapping NxTSTOP's sustainability performance in Product, Process, and Packaging
2021 was a year of expansion and transition.  
2021 marked the first time in the brand's history that we could introduce full lines of mens and womens apparel, which happened in Q4. Building on the foundational elements of 2020, we continued to deepen the penetration of sustainble materials across all products and packaging. We also added another sustainable India-based supplier specialized in organic fibers and OEKO-TEX processes. On the supply side we now have a range of super accomplished partners who have the depth to handle more complex products and the breadth to scale alongside us.
On the other hand, 2021 also meant supply chain challenges across the globe, which complicated the timing of some of our rollouts. For example, we ended up having to use regular plastic polybags for our socks because we could not get the NoIssue compostable ones in time. And, while we had ordered most products with enough lead time to make key selling seasons via ocean freight, we ended up air freighting more product during Q4 to hit the launch deadlines themselves. We will push to avoid this in the future as best we can.
All in all, I am pleased to have stayed the course for the major products, and outside of accessories we continued growth in eco-friendly penetration to reach every single product.
Continuing the Sustainability Scorecard approach from 2020, I'm now providing below updated numbers according to each product line based on total units produced during 2021. The breakout is also adjusted to show mens, womens, accessories (water bottles, hats, socks), and masks.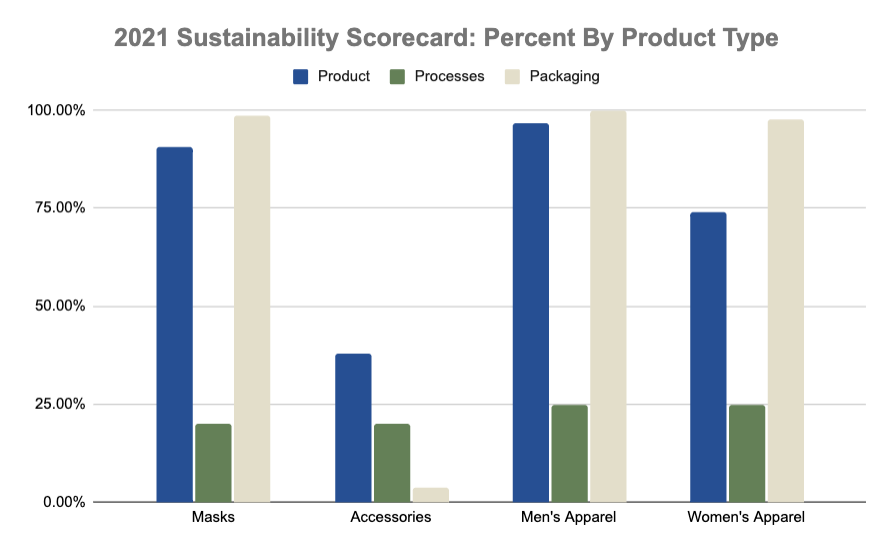 Once again, let me say that this scorecard is a simple measure. It is based on the eco-friendly ratings (from 0% to 100%) we assign to individual elements in products, processes, and packaging. For example, 100% organic cotton fabric is rated 100% while our bamboo is rated 40%, and regular polyester is 0%. The chart above shows how these measures reflect proportionally according to total units produced in 2020. For example referring to hats, 90% of these products were fully eco-friendly in terms of materials, 80% used compostable packaging, and 10% of the process was sustainable.  
A note about metrics and B Corp application:
Coming into 2021, I was determined that NxTSTOP start to quantify measures such as water usage, volume of recycled material, volume or dyes used/saved, overall carbon footprint, etc, such that we could establish a process of ongoing transparency. With metrics in hand, submitting for B Corp certification would be the next step to integrate these practices into our longterm strategy. However, in starting this path we realized very quickly that the metrics gathering and tracking would be a much larger effort than originally assumed, especially without a dedicated sustainability manager. So, we pivoted a bit, and spent time talking to sustainability leaders like Matt Stockamp at Nisolo and Tyler Cobian at Mate the Label to see how to approach it differently. We now have a plan to introduce some baseline carbon footprint tracking in 2022, with B Corp application likely in 2023-4.
Lastly, below are some of our key achievements and our opportunities for improvement for 2021.
2021 expanded our knit and woven product lines with leading technologies and introduced the reusable water bottle.  
ACHIEVEMENTS
Recycled Nylon and Recycled Polyester used in 100% of woven products

LENZING™ ECOVERO™

Rayon launched in women's pant

OEKO-TEX Standard 100 certification for 100% of new wholesale orders

 

OPPORTUNITIES

Identify natural options to replace synthetic wovens

 
We onboarded one new cut and sew supplier plus 2 material partners.  
ACHIEVEMENTS
Onboarded one India factory with OEKO-TEX, GOTS, and other sustainability certifications

Agreement with PrimaLoft for sustainable insulation

Agreement with HeiQ for the HYPROTECHT antimicrobial technology




 

OPPORTUNITIES

Obtain carbon footprint and impact metrics by product
---
We expanded polybag and mailer offerings with partner NoIssue to 95% of all products.  
ACHIEVEMENTS
100% mask, pant, and jacket polybags are compostable or recycled

100% shirt and sweatshirt polybags are compostable

100% of D2C mailers are compostable




 

OPPORTUNITIES

Move to completely reseable, compostable polybags