2020 Sustainability Review
Recapping NxTSTOP's sustainability performance in Product, Process, and Packaging
2020 saw a surge of progress in every area of our sustainability journey.  
During times of rapid growth, it is often tempting to take the easy route or to compromise in your decisions with the idea to "fix it later." NxTSTOP had absolutely astonishing growth in 2020, but what I am most proud of is how we fundamentally grew our commitment to eco-friendly elements in 95% of our new offerings. We hit major milestones towards our 2023 goal to have 100% sustainable practices in every aspect of our products, processes, and packaging
.
Like any evaluation, it's best to quantify as much of the criteria as possible. Sustainability is no different. The challenge however is that

measuring

sustainability is complex, and we are finding this out firsthand while building eco-friendly practices into our business. As a startup, we have limited means to tackle every possible approach, and we realized it can be difficult if not impossible to get quantifiable data or measures from every supplier.
Regardless, we took a first small step, and for 2020 we are introducing a Sustainability Scorecard. In short, it is a weighted average calculation that shows "how much" sustainability was incorporated into each product line based on total units produced during 2020.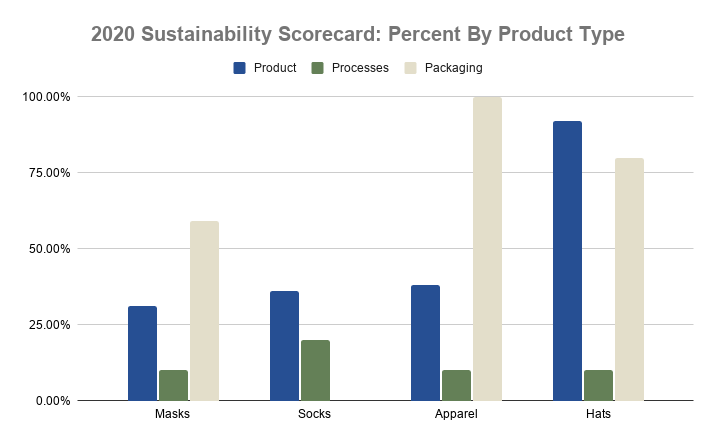 Let me say that this scorecard is a simple measure. It is based on the eco-friendly ratings (from 0% to 100%) we assign to individual elements in products, processes, and packaging. For example, 100% organic cotton fabric is rated 100% while our bamboo is rated 40%, and regular polyester is 0%. The chart above shows how these measures reflect proportionally according to total units produced in 2020. For example referring to hats, 90% of these products were fully eco-friendly in terms of materials, 80% used compostable packaging, and 10% of the process was sustainable.  
Going forward we will also begin to quantify measures such as water usage, volume of recycled material, volume or dyes used/saved, overall carbon footprint, etc. For 2021, we plan to initiate tracking in these areas where possible, and to submit for B Corp certification as a way to integrate these practices into our longterm strategy.
In the below sections I will highlight some of our key achievements and our opportunities for improvement. There are some very exciting foundational accomplishments to report for 2020, so I can't wait to see what 2021 holds!
Venture Out. Connect. Go Beyond.  
We made 2020 the Year of Bamboo. We also designed recycled polyester (rPET) into multiple product segments.  
ACHIEVEMENTS
Bamboo accounts for 78% of our mask offering / 100% of shirts

Hats are 92% organic or recycled materials

OEKO-TEX Standard 100 cotton used for largest wholesale partner

 

OPPORTUNITIES

Future sock offerings to utilize recycled or organic blends

Move to closed-loop non-toxic lyocell process for more sustainable bamboo

 
We onboarded three new suppliers with fundamental focus in sustainable practices and transparent reporting.  
ACHIEVEMENTS
All 4 factories were audited for social compliance & agreed to NxTSTOP's terms

Factories provided sustainability certifications (e.g., sustainable apparel coalition)

Committed to not overproduce (we only made what we could sell)




 

OPPORTUNITIES

Reinitiate onsite visits for auditing and verification

Work with suppliers to pursue certifications in carbon footprint and impact
---
We launched 100% home compostable polybags and mailers with partner No Issue.  
ACHIEVEMENTS
50% mask polybags (after July)

100% shirt polybags are compostable

100% D2C mailers (non-Amazon) after Dec 1




 

OPPORTUNITIES

Ensure on-hand polybags / mailers meet inventory supply